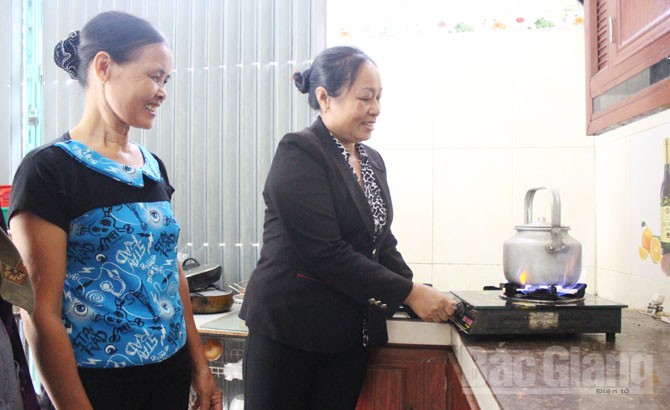 Sister Lua (right) introduces and teaches people how to cook with biogas
In the past, she worked in the field, then tofu to make pigs. Her husband- Mr. Nguyen Khac Aware of the builder's job, apart from helping his wife, he undertook many projects, including biogas. Therefore, her family was invited to participate in the construction of biogas plants in the framework of a number of environmental projects. In 2008, her husband abruptly died. In order to continue the work, she applied to be a collaborator and participated in training courses, and was granted a certificate on construction of biogas plant.

Currently, she is the only female contributor to the Bac Giang LCASP project (supporting low carbon agriculture). On average, each year, she receives and organizes the construction of about 200 small and medium biogas plants in many localities in the province. Nearly 10 years involved in the project with thousands of works were built, Ms. Lua not to make mistakes, incidents. She confided: "Has to be a consultant, design suitable, especially the size of each item must be calculated accurately."

Directly doing, managing and teaching technical workers, work is quite busy, but she still arrange arrangements with the village in the village to propagate and mobilize people using biogas digester. In the year 2014, she won the excellent individual award at the skill contest organized by the Department of Livestock Production (MARD).

Mr. Dao Xuan Vinh, Deputy Director of LCASP Project Management Unit, Bac Giang commented: "In the construction of biogas digester, the technical factor is the decisive factor in the quality of the tunnel. It is very difficult to have safe work. We appreciate her skill ".

Here, she was selected as the representative of Bac Giang province to participate in the training course of large scale biogas under the LCASP project. This is a condition for her to undertake and execute larger projects inside and outside the province, contributing to the environmental protection community.