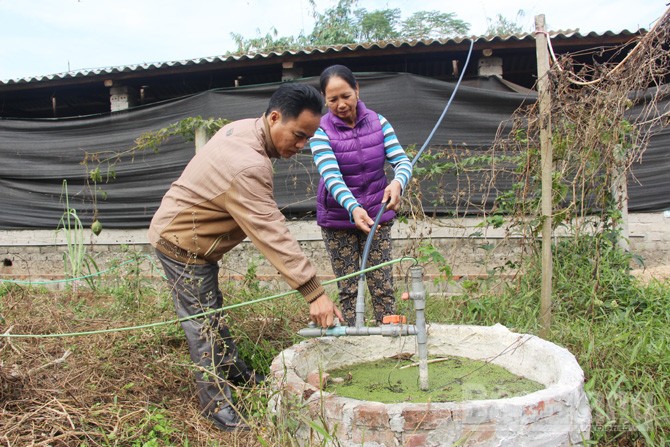 Currently, the 4 biogas plants of Tuyet family bring many practical benefits.
Pig farming more than 20 years, previously, the family only raise about 10-20 pigs / batch. Everyday, she often tugged from cooking bran, breeding facilities ... Eight years ago, when the construction of biogas plants, husband and wife hire technicians to install two biogas composite gas tanks with a volume of 9m3 / Pots. Since then, the family has gas cooking, cost savings, labor costs when cleaning the cage. Later, the grandparents decided to increase the number of pigs up to 100 children per litter.

At the beginning of 2015, it was found that livestock production was more favorable from the efficiency of the biogas plant. The Tuyet family built a new farm on the garden land, raising 250-300 hybrid pigs, earning some income. Hundred million per year. When being introduced to the LCASP project, the couple invested two more biogas plants, KT1, with a capacity of 50m3 / cell. Participating in the project, her family is supported VND 3 million / tunnel and is regularly monitored by the technicians of the tunnel.

Ms. Tuyet said: "My family is happy to choose the right direction for economic development. The efficiency of the biogas gas pits is very clear, saving labor, the cost of living of the family. In particular, I have the opportunity to help many others. "
It is known that nearly 2 years, from 4 biogas gas tunnel, 10 households around the free gas is used in daily activities.
Mr. Nguyen Ngoc Tu's family is in the same village as one of the beneficiaries of Tuyen's biogas plant. His family has 6 people, both the elderly and young children should spend more gas in the activity. In May 2015, his family bought gas cables to install from Tuyet's house to his house. Although the transmission line is long, but the gas quality is stable, the fire is steady and steady. Tu said that since using gas for free, daily cooking and boiling water is much more comfortable than before.

Tu Tu happy to share: "Previously, I never thought that my family has free energy sources but quality is good like this. From the gas used in the biogas plant of Tuyet family, my family saved more than 200 thousand VND a month.

Sharing the fun with Tu's family, many households are using gas free of her family Tuyet highly appreciate the quality of gas and especially the cost of buying fuel in daily life, saving Millions VND / year.

Many people commented, although Tuyet family pigs in large numbers but the environment around the neighborhood is not polluted.

From the above practical effects, it can be seen that the livestock of people today is almost attached to biogas. This is an effective solution in breeding in Yen My district and Bac Giang province in general.