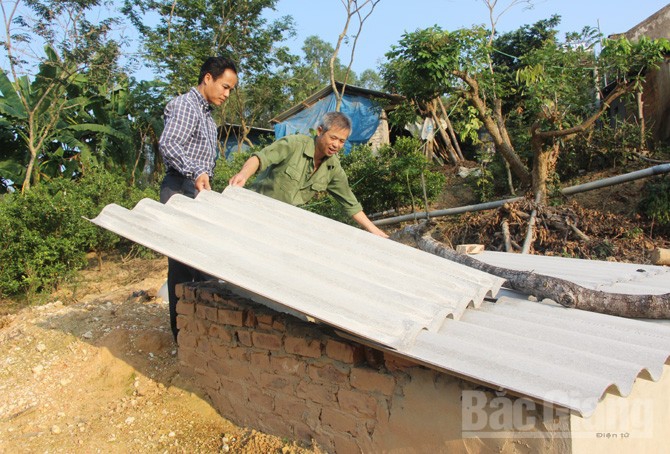 Mr. Nguyen Van Dinh (blue shirt) with LCASP project technician inspects the waste disposal tank.
Pigs raising more than 20 years with a size of about 20 children, February-2016, after being disseminated about the benefits of bio-gas biogas plant under the LCASP project, the family of Nguyen Van Dinh has boldly invested in building Construction of gas KT1, volume 38.1m3, supported 3 million from the project. Seeing the efficiency from the biogas pit, he continued to grow pigs to 70, then 120.

Currently, waste from livestock not only helps the family have fuel but also produces clean manure for irrigation and fertilize more than 2 ha of fruit trees such as: Labels, oranges, lobsters, grapefruit ... He said, From planting to now, plants are well absorbed, resistant to many pests, high productivity and especially save tens of millions of VND to purchase phosphate and nitrogen compared to before.

For 2 hectares of lakes, he invested in tens of millions of fish seed. From the waste in the treatment tank, Dinh used to feed fish, just do not lose money to buy fish food that the fish population grows very well. Since there are biogas biogas plants, the environment around his house is also guaranteed, the farmhouse is clean and labor free.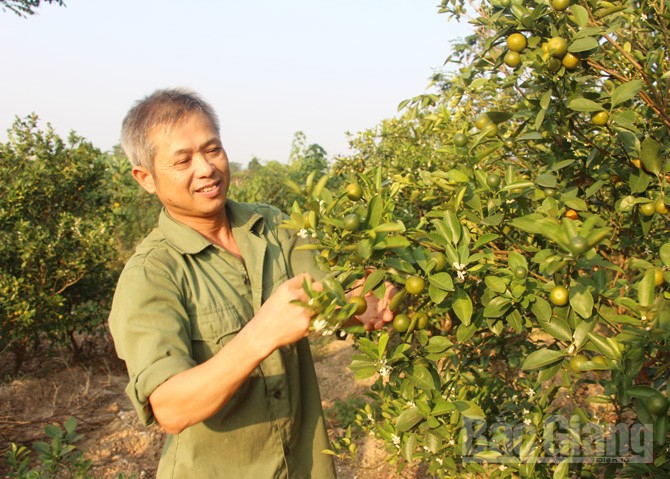 Dinh's family developed a highly efficient VAC model from biogas plants.
Sharing this joy, Mr. Dinh said: "For me, the choice of biogas plants for the development of home economics is a wise choice. With the family's cages, I found the production more favorable. Previously, want to do the model as now must have at least two people. But nowadays, I can raise my own pigs and take care of my crops. "

After nearly a year using biogas digesters, Dinh said that this year the efficiency of pigs, fish and fruit trees will be better quality and promising a good harvest.

Analyzing the effectiveness of the LCASP project with biogas digesters in the area, Mr. Than Van Hien, LCASP technician in Yen The district, said: Private and many households are using biogas to develop economy, can see high efficiency, people are very excited. The environment of raising animals in the area is good, helping people save tens of millions of VND per year. The project has really come to the heart of the people, bring unity to the community. We hope that the project will raise the level of support so that people will have better conditions for economic development.

From the effectiveness of the LCASP project, it is hoped that in the coming time many households in Yen The district in particular and the whole province will generally have access to the biogas digesters, have the opportunity to expand the scale of animal husbandry, Developing effective VAC model like Mr. Nguyen Van Dinh's family.