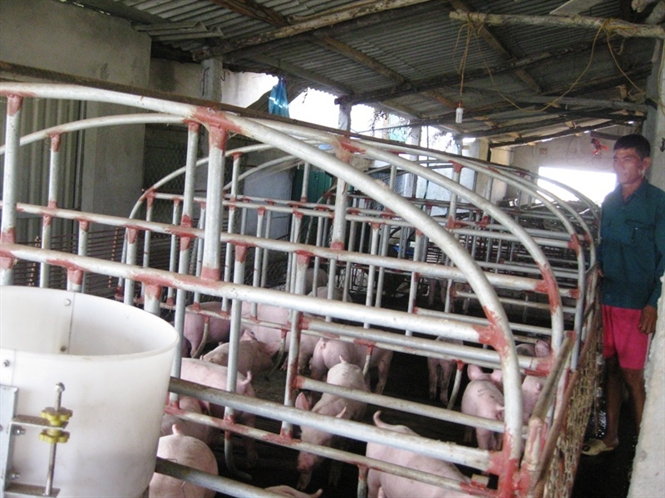 Each year, except for his expenses, Vuong still has a profit of about 800 million dong
A dozen years ago, he boldly applied for bidding government 8 hectare of waste land for shrimp and brackish water crabs. At that time, many people in the commune said that he and his wife are unfinished, at the risk of pouring nearly 600 million investment in land for no one else do. But with the trust and support of relatives, Vuong has "turned gravel stone into rice."

In 2008, Nghen River was sweetened, his wife and husband converged to fish, chicken and duck. The first case, thanks to good technical process from breeding, care to disease prevention, so few ponds have brought profits for his family over 100 million per year. Gradually, he continued to build sow farms under the motto of raising short-term raising.

The thought of the difficult period passed, took a few dozens of his sow died sickness. Continuing failure, he went to the local livestock producers, tinkering in books, websites, and television to find out the causes and remedies. Just recently, the historic flood of 2010 has swept away all the property, his family once more empty handed.

"At that time, my wife and I were very upset, debt owed to her husband, low interest paid high interest. But I do not think I do not know what to do now, so I'm looking forward to investing again. Fortunately, it does not help people, after many years of trying, my farm has expanded to more than 500 ducks; 16 - 17 tons of fish per year; 20 sows and more than 200 breeding pigs. On average, the turnover is more than 2 billion VND / year, except for the profit of 800 million VND, "Vuong said.

Sharing the experience of raising cattle effectively, Vuong said that the most important factor is to stick with animals and take timely measures to prevent diseases. In addition, the issue of environmental sanitation, routine vaccination is also of prime concern.