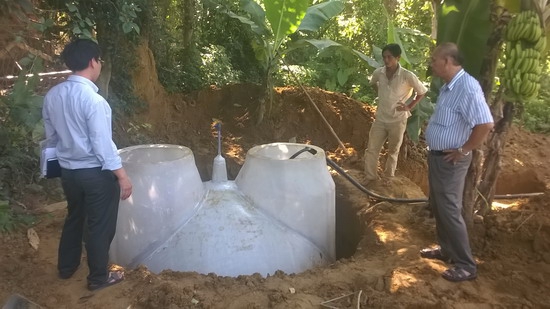 A farmer in An Nhon TX builds a biogas plant.
Borrowers are Vietnamese legal persons and individuals who are and will be engaged in agricultural and livestock production activities for rural agriculture in the project area; There is a demand for loans to build up standard value chains; Committed to compliance with technical criteria for operation and maintenance of the facility; Be able and willing to repay the bank on time; Compliance with bank lending regulations and other regulations on loan security. According to the regulations, the size of the project is 50 m3, people can borrow up to 100 million VND, 5 years; From 51 to 499 m 3 borrowed 1.7 billion and the size of 500 m 3 borrowed 3.74 billion, for a period of 10 years. The maximum interest rate is equal to 90% of the lending interest rate applicable to agriculture, forestry, fishery and salt production in each period.

Mr. Dao Van Hung, Director of the Provincial Low Carbon Facility Project Management Board, said that the demand for capital for construction of biogas works (mainly small scale construction) in our province is huge. The level of borrowing does not meet the requirements of the people, which stipulates that borrowers must have collateral to borrow new loans is a major barrier for people when they want to access bank capital. Moreover, complicated loan procedures, people do not want to borrow. Up to now, only 40 households have borrowed VND2,615 billion from Co-op Bank Binh Dinh and 6 households borrowed VND60 million from Binh Dinh Agribank to build the works and biogas works.

Also, according to Dao Van Hung, for commercial banks to value biogas value chain, commercial banks need to consider and adjust lending limits and loan institutions. In addition, diversification and diversification of loan categories in a value chain loan, including biogas plants, livestock subsidy loans, construction, improvement of facilities, waste disposal In agriculture and animal waste as organic fertilizer, environmental treatment in livestock ...