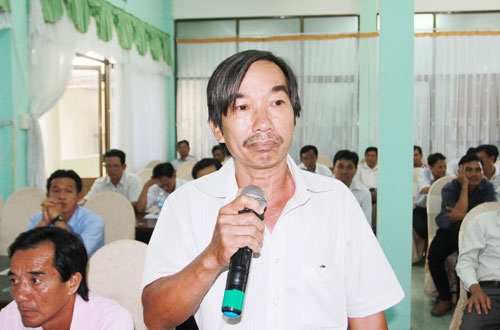 Representatives from Cho Lach District Agriculture and Rural Development Office proposed to promote the dissemination of environmental criteria in new rural construction.
LCASP consists of four components: animal waste management; Credit for biogas value chains; Transfer of low-carbon agricultural production technologies; project management. Total project capital of more than $ 84 million, financed by the Asian Development Bank (ADB). Project implementation until 2018.

Participating in the project, each household received a non-refundable grant of 3 million VND for all sizes of the project. From 2014 to now, the project has built more than 3.7 thousand small-scale biogas plants, with total disbursed capital of nearly 11.6 billion (total project capital in Ben Tre is 39 billion). The works have shown remarkable effects, contributing to reducing environmental pollution, raising livestock farmers' incomes and protecting public health. Project progress is quite fast, expected to end in 2017, Ben Tre will complete the 6th work. However, in the past time, the project was only capable of implementing small-scale, inadequate, and technically large scale projects.

One problem that exists in the implementation of component 2 of this project is that the disbursement of bank capital is still facing many difficulties. This issue, said Vo Van Minh, representative of the Bank for Agriculture and Rural Development, Ben Tre branch, said that the loan balance at this bank (disbursed by the project) was 1,539 billion VND The repayment is quite good. The bank is still slow or unable to disburse mainly due to the understanding of borrowers about the project is quite vague, especially the problem of loan procedures.

At the conference, the localities highly appreciated the efficiency brought by LCASP to local farmers; At the same time suggest that the project should have a support mechanism after the waste is treated; Especially the issue of propaganda so that more conscious farmers actively participate in the project, as well as actively implement the maintenance of the discharge tunnel better ...

Ms. Phan Thi Thu Suong - Deputy Director of Department of Agriculture and Rural Development, Director of LCASP, said in the coming time, will promote propaganda; It is recommended that localities urgently re-enumerate local needs so that provincial PMUs can synthesize and report to the Central Project Management Board for further participation in the following components. Project representatives need to be aware of the viability of sustainability throughout the many aspects of life required by the project, as well as coordinated implementation with relevant agencies.