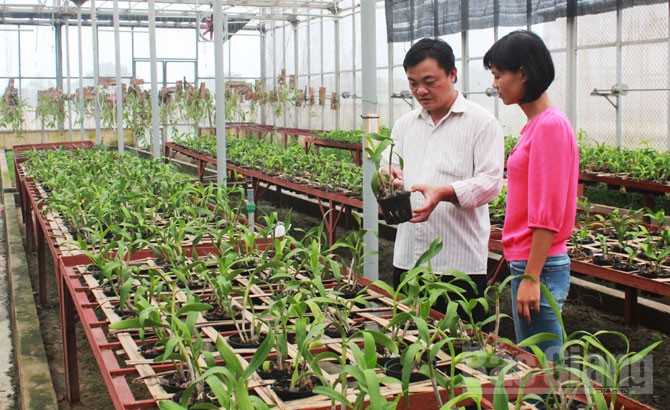 The Center for the Advancement of Science and Technology (Department of Science and Technology) applies biotechnology in orchid breeding.
Reduce costs, increase profits

The industrial chicken farm of Mr. Hoang Van Tuan, Voi Village, Quynh Son Commune (Yen Dung) each litter of 1.8 thousand children (5 litters / year). Chickens are kept in closed enclosures so the waste is very large. But there is no smell like some normal breeding places. Mr. Tuan explained, "It's because I use bio-preparations. Premises polluting will first affect me, so when I start to chickens, I apply the way to reduce odor, creating a clear environment. "
Biosafety production is important in the development of high-tech agriculture. The Department is planning production areas such as: Vegetables, flowers; Fruit trees; Raising chickens, pigs; Mushrooms, intensive aquatic products, based on that mechanism to support biological products in the first 1-2 years.
---
Mr. Duong Thanh Tung, Deputy Director of Department of Agriculture and Rural Development
It is known that, depending on the weather, Tuan used different preparations. When the moisture is high, simply sprinkle the product directly onto the husk lining. Dry air, aerosols help microorganisms decompose waste quickly. Thanks to that, over a dozen years, the herds of Tuan's family are healthy and fast growing, except for the interest of over VND600 million. He said: "The price of inoculants is quite high, about more than 100 thousand VND per package, but careful calculation will benefit a lot. These are harmful bacteria to chickens are almost killed, less disease chicken will reduce input costs. Moreover, labor was reduced because after each litter it was necessary to clean the litter. There are bio-preparations, the source of waste becomes fertilizer containing nutrients, which is believed by gardeners. "

In the field of cultivation, people also get high results when using biological products. For example, the model of using THANH HA KH.No.3 for 500 pomelo pomelos in Phi Mo commune (Lang Giang province) helps the trees recover quickly when they have downy mildews, dry leaves, yellowing of leaves, clogging of roots; At the same time, the fruit is not burnt, helping the soil to foam. Or straw incubation into microbiological fertilizer in Tan Yen, Yen The, Hiep Hoa districts has limited straw burning at the end of the crop, reducing greenhouse gas emissions. Or how to use biological products to treat water environment, raising the rate of live fish ...
Support replication

According to the Department of Agriculture and Rural Development, the use of biological products over time in the province brought practical results. However, replication of models is difficult. The reason is because farmers are not familiar with new production methods, afraid to change. Typically in pig raising, people still have the mentality of "clean themselves, dirty people" and impartial discharge of waste into the environment.

The family of Mr. Trinh Van Toan, Luc village, Tan My commune (Bac Giang city) raised more than 20 pigs per litter, but the biogas gas is overloaded, do not know how to use bio-product so waste is not fully processed. butter. There is no other way, Mr. Toan spraying water to clean the barn, discharge into the sewer near the house. In addition to the above mentioned reasons, the farmer believes that the high price of bio-products should not be invested.

On the occasion, on the occasion of visiting some models of agricultural production in Bac Giang City, Yen Dung district recently, Vice Chairman of the provincial People's Committee Duong Van Thai asserted, using bio-products contribute to creating the environment. Green, clean farm produce. Comrade analysis, cultivation and breeding are increasingly developing towards intensive farming, only bio-products are products of biotechnology to stimulate the beneficial microorganisms available in the operating environment, Helps plants, children grow well without affecting health. Therefore, all levels and sectors should pay attention to replicating this model.

On behalf of the leadership of the Department of Agriculture and Rural Development, Department of Science and Technology said that the unit continues to allocate funds from non-business capital to build a biosafety production model at one Local number. In line with the above measures, some people said that it is necessary to increase the propaganda and introduction to farmers easy access to advanced technical measures. Local authorities and mass organizations regularly remind people to actively apply measures to reduce pollution in production.